Perfect shape
Art inspires us to create our products. This concept, which is closely related to creativity, craftsmanship, originality and innovation, perfectly reflects the character of our activities. We derive the motivation for excellence from many sources, however, the production of our buckets is based in particular on the suggestions and dreams of our customers.
PERFECT SHAPE is a comprehensive approach to the production of buckets that manifests itself not only in development of their ideal shape, but mostly in continuous development of material engineering and production technology. Modern fabrication methods, extensive technological knowledge, and vast experience allow to produce accessories that are perfectly selected for loading different types of materials.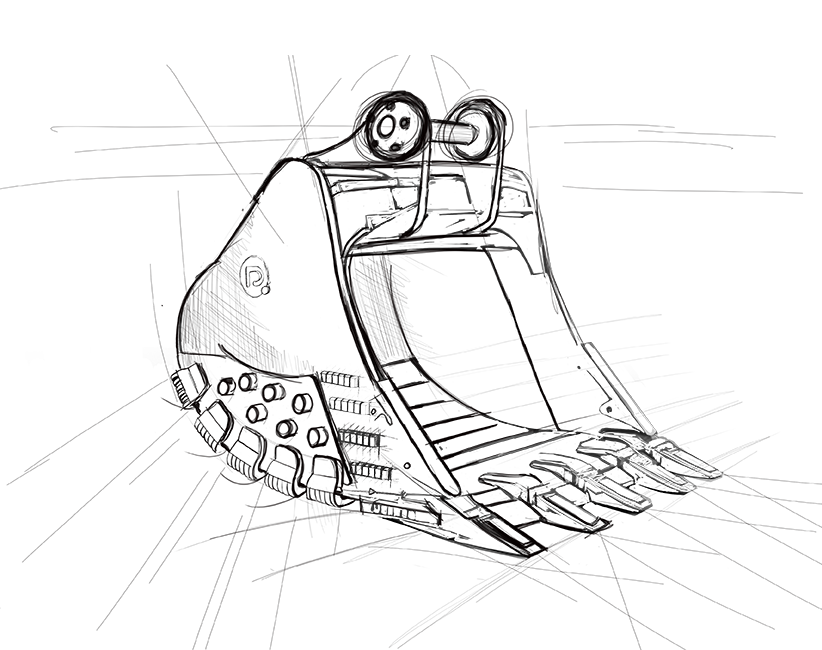 Our basic assumption is to open ourselves to customers and their needs. High service quality is visible not only in technical issues, but also in comprehensive service, mutual relations as well as understanding and responding to various needs. We believe that the production of high quality buckets contributes both to the success of our activity and to the success of our business partners.
PERFECT SHAPE is something more than just the ideal shape. The philosophy behind our idea is not only designing the perfect bucket profile, but also the selection of proper technology, materials, and tools for production. Such an approach makes Dekpol buckets work in the most difficult conditions, including in Scandinavian granite quarries. The use of HARDOX, that is the best wear-resistant steel, extends life and increases functionality of our buckets. Perfect SHAPE means far-reaching ideas influencing not only work ergonomics, but also the global values. Thanks to the development of a model bucket profile and exceptional kinematics, it is possible to increase the efficiency of work – a more complete loading, fewer loading cycles, shorter work time and execution of orders are just a few examples of benefits. Positive effects, however, last much longer. Shorter machine operating time also means lower fuel consumption and reduced emissions of exhaust gases. By choosing Dekpol buckets you can not only reduce the costs and improve the financial condition of your company, but also ensure your family's safety and life in a healthy, smoke-free environment. One idea, one product – and you can do so much.
When steel meets art
In the times of ancient Greece, Plato, the philosopher, recognized that circle is the perfect shape. Today, however, it can be found in many other forms. As a result of the constant technological development, creation of the new fields of art and science, and continuous strive for perfection, even a non-uniform body can take on the ideal shape. It is those elements that were the reason for creation of our "Perfect Shape" idea which we implement during every stage of our activity, from design to production.
Our products are distinguished by innovative solutions and exceptional quality.
We chose art as an inspiration for creation the perfect shape of our large-sized products. We derived excellence from many fields, such as sculpture, painting, dance or music. In each of these dimensions we discovered those elements that made the whole the perfect shape. However, each project must be supported by vast experience and extensive knowledge in the scope of the used materials and kinematics to result in the creation of a perfect product.
This way we create a unique vision and are not afraid of reaching for projects of the future.
Perfect Shape is the art of the future and the guarantee of success of our customers.